In appreciation for their selfless acts
Dr. Hope's "Act of Kindness" Award
is awarded to Ms. Nancy Fee and her second-grade class at
Mukilteo's Challenger Elementary School
Everett, WA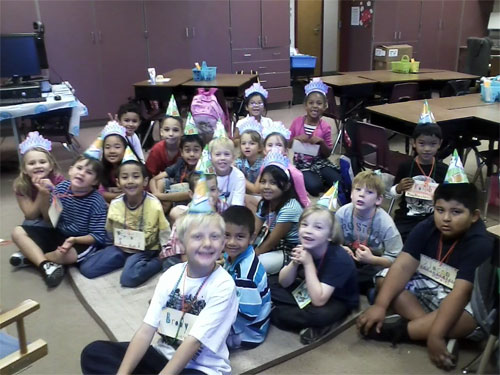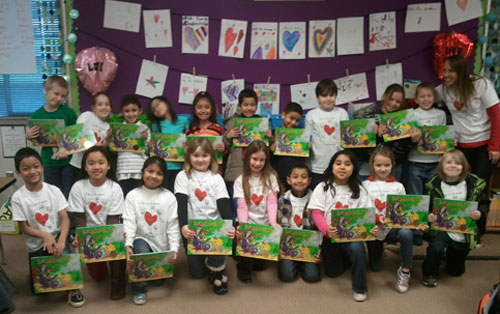 Nancy Fee, a second-grade teacher at Mukilteo's Challenger Elementary School, was browsing the internet looking for nursery rhymes when she came across www.LaughingDay.com, Dr. Hope's children's website. There she discovered Dr. Hope's on-going Act of Kindness contest, a contest to inspire and reward children for doing selfless acts of kindness. On behalf of her students she wrote and told Dr. Hope what her kids had been doing.
Nearly three-quarters of the students at Challenger Elementary come from low-income families. One day Ms. Fee had a conversation with four little girls in her class and was struck by the compassion and caring of which these 7-year-olds were capable. The children told her of a new student, not in their class, that they had seen at recess, dressed in the same unwashed clothes for a week, who was friendless and alone on the playground. They were worried about the trauma this new girl was facing not knowing anyone and worried about her family perhaps being homeless.
These four sweet girls went out of their way to help the new girl find friends: A simple act of kindness. This then inspired Ms. Fee's entire class to do similar acts of kindness. They formed a group called, 'Kids for Kindness' to spread joy to others and in doing so experience the joy one feels when one selflessly participates in helping others.
Ms. Fee's students have snuck into other classrooms, while those kids were out, and left little notes to inspire feelings of self worth, sometimes they delivered treats. They've helped the custodians by picking up trash around the campus. They've written notes of appreciation to the school nurse and librarian. They made and sent cards to veterans on Veterans' Day thanking them for their service. They have spread joy into the hearts of local seniors by reading and playing games with them.
A big warm thank you from Dr. Hope goes out to all of you!
Click here to read a News Release.
Click here for previous winners.